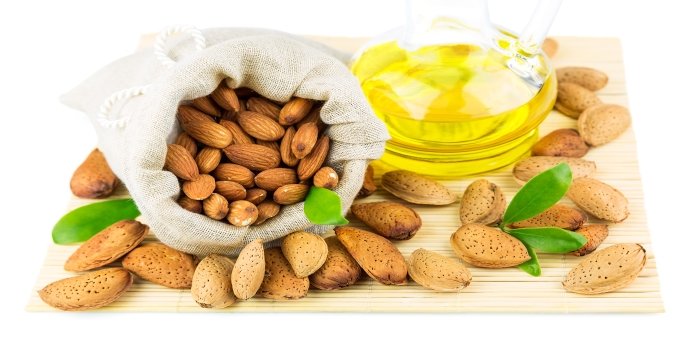 Almond oil:
Almond oil had been used extensively for its health benefits and as a beauty aid much before science caught up with the goodness of this seed oil. Very popular in Southeast Asia and in the Mediterranean region where the Almond tree was first domesticated, the almond kernels and the nutty oil extracted from them were credited with promoting heart and skin health.
Now we know that the oil is rich in Vitamin E, monounsaturated fatty acids, proteins, potassium and zinc, besides a number of other minerals and vitamins, which explains why it is so good for our heart, skin and hair. Deficiency of magnesium and calcium in particular results in poor hair growth and hair loss. Zinc is another important mineral for healthy hair; its deficiency is known to cause alopecia, characterized by thinning of hair. Almond oil is rich in all of these minerals.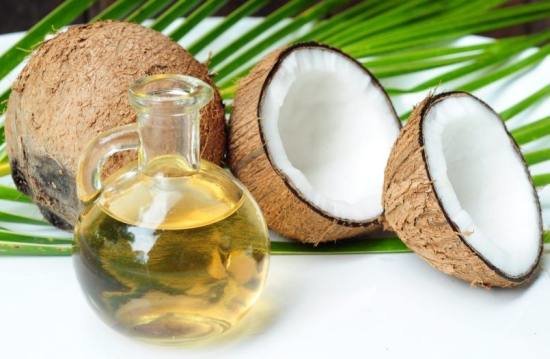 Coconut oil:
The use of coconut oil on hair helps to reduce protein loss in both damaged as well as undamaged hair. Coconut oil rich in lauric acid, has a high affinity for hair protein, and easily penetrates inside the hair shaft, which is due to its low molecular weight. Coconut oil has a high moisture retaining capacity, since it is not easily broken down nor evaporated, being very stable. It does not let moisture escape, thus keeping hair moist and soft, which prevents breakage of hair.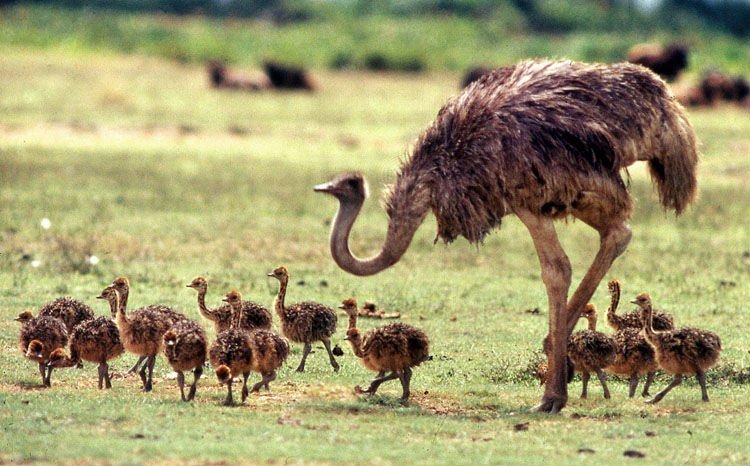 Emu Oil:
The most important property of emu oil is that it is highly penetrating. This ability to penetrate the stratum corneum barrier of the skin, brought about by the high levels of oleic acid. Emu oil has this penetrating ability because it gets into the scalp and enhances the potency of topical medications, in addition to making them last lasts longer.
It is an anti-inflammatory, which may be in part why it stimulates hair growth. Scientist have isolated a yellow-colored component in emu oil that appears to be at least one of the active ingredients causing the oil's anti-inflammatory activity. Emu Oil has also been shown to be a 5 alpha reductase inhibitor in target tissues when topically applied, which likely contributes significantly to its hair growth properties.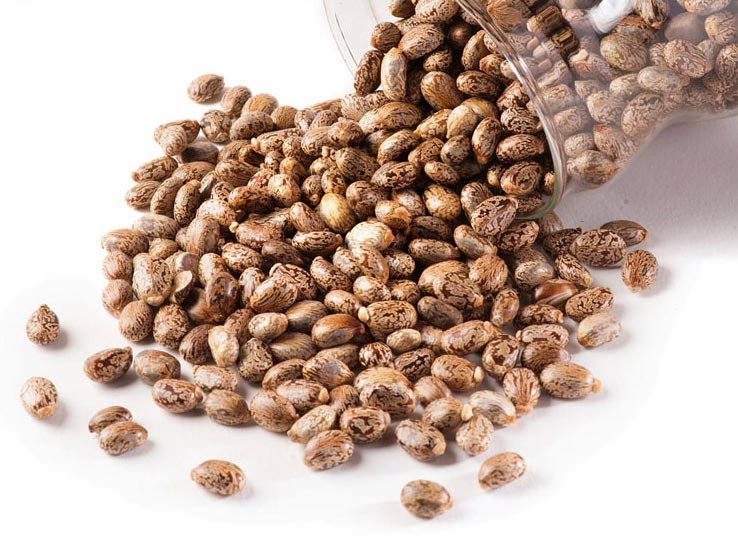 Jamaican Castor Oil:

Castor oil has been used for centuries to treat a number of ailments. Containing Vitamin E and Omega-6 fatty acids, Jamaican castor oil has many topical uses and is a natural hair treatment. Jamaican black castor is more popular since it's raw, so it has more nutrients that thicken the hair. However, organic castor oil offers similar benefits. Jamaican black castor oil is rich in Omega-9 fatty acids that moisturize the scalp, which prevent your hair from drying out. Applying castor oil regularly can help moisturize your roots and scalp to prevent dry air, as well as promote hair growth. The oil also prevents hair damage and enhances its health, which leads to thicker hair on regular use. It is a great hair conditioner that can help treat dull and damaged hair.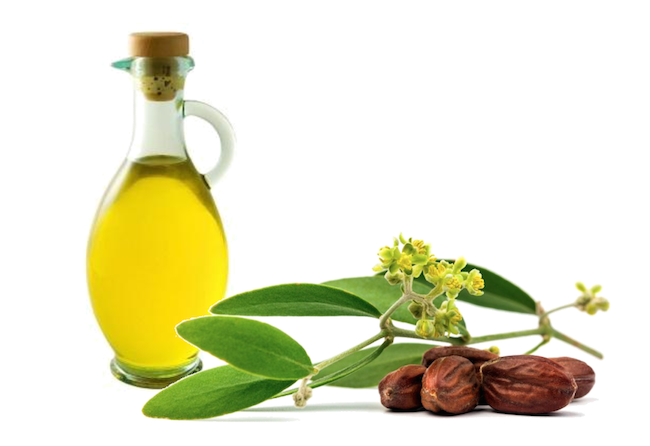 Jojoba Oil:
Bringing about a purely natural moisturizing effect is just one of the many benefits of Jojoba Oil. Its growing popularity makes it almost impossible to find a skin care product which doesn't contains jojoba oil as an ingredient. It is reputed to have antibacterial properties. It soothes the scalp and can be used to treat dry scalp problems and dandruff.
Composed of 98% monounsaturated fats and 2% saturated fats so it can penetrate the hair follicle and strengthen hair fibers from the inside. Jojoba also hydrates hair from the inside of the hair shaft. So it works well as an agent for reducing the swelling and shrinking of hair as it gets wet and dries that can weaken the hair fiber over time. As a conditioner jojoba helps to add shine, elasticity, softness and add volume to thinning hair.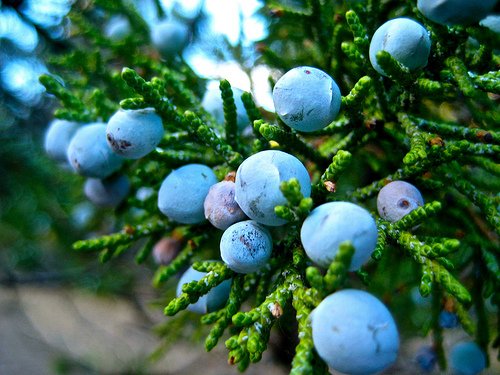 Juniper berry oil:
Juniper berry oil has been known since ancient times as a very strong antiseptic and diuretic. Its scent is refreshing and stimulates the mind. Juniper berry oil has many properties, most of which are very beneficial to the skin. The antiseptic quality of the oil is very good for helping oily, spot-prone skins. Aroma therapists also use juniper berry oil as a popular balancing oil to help with greasy hair and also dry hair conditions.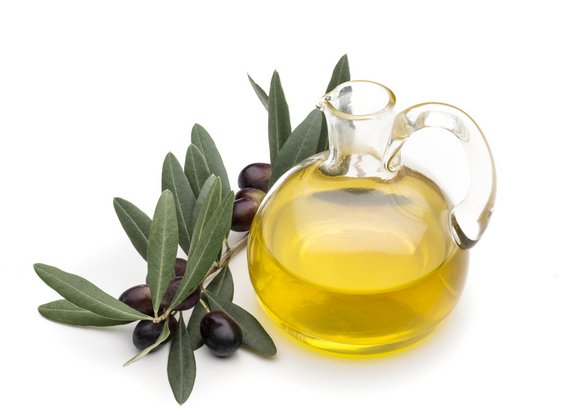 Olive Oil:
Olive oil has vitamin E and A, as well as antioxidants that can help to make the hair strands stronger and shinier. Studies have shown that regular use of olive oil as a conditioner can add needed nutrition back into each strand of hair and help with the shine. Olive oil for hair growth is also an added positive when using regularly. Since olive oil has moisturizing and conditioning proprieties, it can add silicone that your hair needs in order to feel naturally soft and vibrant.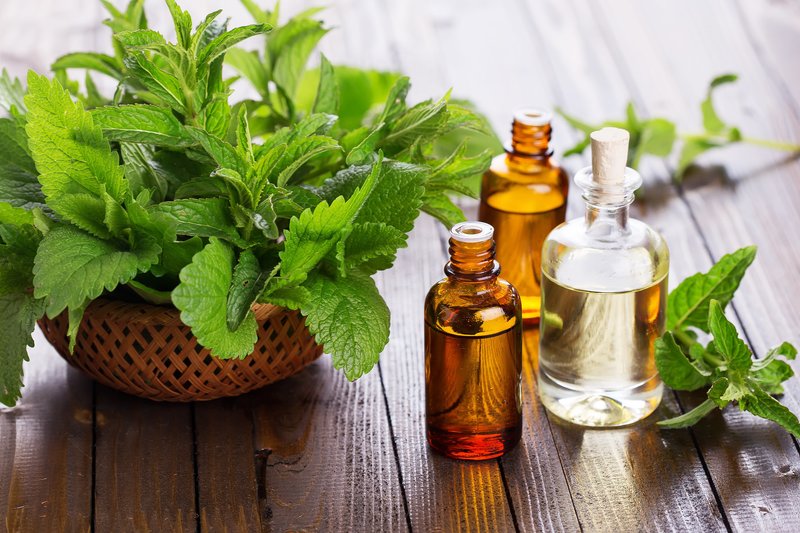 Peppermint Oil:

Peppermint Oil: This essential oil is best to stimulate the blood flow to the hair root. Peppermint oil ensures that the hair receives proper nourishment and thus it will promote the hair growth too. This is very important for hair as it helps the hair to receive proper nourishment. This in turn will lead to hair growth. That tingly feeling when peppermint oil is felt on the scalp is actually the stimulation of blood flow to hair. Peppermint oil has restorative properties for returning your scalp to its natural pH levels. This pH balancing effect helps reduce dryness and flakiness, which is usually the cause of itchiness and dandruff.